The test results are in – Texas ranks 33rd out of the 50 states for having the most knowledgeable drivers.
According to the GMAC Insurance National Drivers Test scores, Texas scored an average of 78.6 percent. More than a quarter of drivers tested in our state failed the test. It is these drivers who increase the risks for everyone to be involved in a Texas car accident.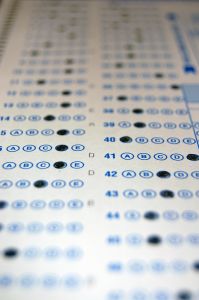 Nationwide, the test results determined that one out of every five drivers on the road would be unable to pass a written drivers exam if they took it today, according to GMAC Insurance. This means that nearly 37 million American, or roughly 18 percent, of drivers lack adequate driving knowledge and skills.
Our Dallas personal injury attorneys understand that many accidents are caused by inexperienced and ignorant drivers. This is why defensive driving skills are so important. Being aware of your surroundings at all times can help you to prevent a serious — if not fatal — accident.
"The GMAC Insurance National Drivers Test has become the benchmark for America's driving IQ," said Scott Eckman, chief marketing officer, GMAC Insurance. "All Americans need a refresher course when it comes to rules of the road and it begins with education. We're hoping this year's GMAC Insurance National Drivers Test results will inspire drivers to arm themselves with the knowledge they need to stay safe."
Kansas was ranked number one again with an average score of 82.9 percent. It was good news for New York as well, as they were bumped from last place by Washington D.C. The nation's capital scored an average of 71.8 on the National Drivers Test.
The nation's driving score average was a 77.9 percent this year. This was a 1.9 percent increase from the score of the previous year, but these results still prove that a large number of drivers on our roadways lack basic driving skills and knowledge.
The test results indicated that 85 percent of drivers were unable to identify the proper action to take when pulling up to a yellow light at an intersection. Another 25 percent of drivers were unable to identify what a safe following distance is.
GMAC Insurance continues to conduct this yearly test in an attempt to remind drivers to re-up their driving skills and knowledge before they experience a serious accident.
GMAC Drivers Test Highlights:
-Men have better road knowledge than women as men scored an average of 80.2 percent and women an average of 74.1 percent. One in four women failed the driving test.
-Older drivers, or those ages 60 to 65, performed better than any age group with an average score of 80.3 percent.
-The Northeast region of the country saw the worst scores. This area reported an average score of 74.9 percent.
-The region with the highest scoring average was the Midwest with 77.5 percent.
-One out of every three tested drivers in New York and Washington D.C. failed the test.
-Wyoming returned the lowest percentage of failing scores.
Drivers are urged to take a look at their knowledge of driving rules and regulations to preserve the safety of themselves and their loved ones, especially as the summer travel season kicks off.
If you have been injured in a Carrollton car accident, contact a Dallas car accident attorney at theGoolsby Law Firm for experienced advice about your rights. Call 1-972-394-2141 for a free consultation today.
More Blog Entries:
MADD Announces Most Dangerous Days for Teen Car Accidents in Texas and Elsewhere, Dallas Injury Lawyer Blog, June 10, 2011
Most Dangerous Roads Released for Dallas Teen Car Accidents, Dallas Injury Lawyer Blog, June 1, 2011

Holiday Travel Expected to Bring a Higher Risk of Dallas, Carrollton Car Accidents, Dallas Injury Lawyer Blog, May 26, 2011