A monster truck rolled over a young woman in a Dallas strip club parking lot earlier this month. The 27-year-old male driver claims the truck was lifted so high, he wasn't able to see the 23-year-old female pedestrian, according to a report by Fox 4.
The Dallas car accident illustrates the dangers of backover accidents and is the primary reason for the rearview camera proposal from the U.S. Department of Transportation.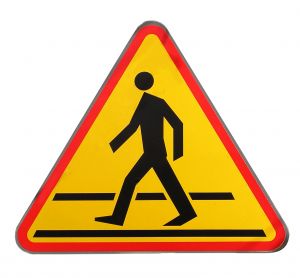 Dallas personal injury lawyers urge you to practice extra caution as a pedestrian. Remember to use sidewalks when available, make eye contact with drivers before crossing the road, obey traffic signals when present and be extra alert for cars that are backing up
According to Fox, the tires of the monster truck, appearing to be at least three feet tall, rolled over the pedestrian at approximately 2:15 a.m. The driver told police he had no idea anything happened until other people in the parking lot stopped him.
The National Highway Traffics Safety Administration(NHTSA) proposed a new rule in attempt to eliminate blind spots for drivers by establishing requirements for rear-view cameras. The rear-visibility rule was required by Congress as a part of the Cameron Gulbransen Kids Transportation Safety Act of 2007, according to the NHTSA. The Act is named after two-year-old Cameron Gulbransen, who was accidentally ran over and killed over by his father's car in their driveway.
The Cameron Gulbransen Kids Transportation Safety Act would expand the required field of view for all vehicles with a gross weight rating of up 10,000 pounds so that drivers would be able to see directly behind them when their vehicle's transmission it in reverse, according to the NHTSA.
The government is also pushing car manufacturers to install cameras and in-vehicle displays in all cars. To meet the requirements of the proposed rule, all car manufacturers are to install cameras in 10 percent of their new vehicles by September of 2012, 40 percent by September of 2013 and 100 percent of their new cars by 2014.
"The steps we are taking today will help reduce back-over fatalities and injuries not only to children, but to the elderly, and other pedestrians," said NHTSA Administrator David Strickland. "And while these changes will make a difference, drivers must remember that no technology can, or should, replace full attention and vigilance when backing up. Always know where your children are before you start your car and make sure you check that there is no one behind you before you back up."
According to the U.S. Department of Transportation, more than 4,000 pedestrians were killed
in traffic accidents last year. Another 59,000 pedestrians were injured in car accidents. With these statistics, a pedestrian is killed every two hours in the United States.
In Texas alone, nearly 400 pedestrian were killed in pedestrian-vehicle accidents. Texas ranks as one of the highest for pedestrian fatalities.
We urge you to be safe on the road, whether traveling as a pedestrian or as a driver. Always be aware of your surroundings, especially your blind spots.
In you or a loved one have been involved in a car driving accident, contact the Dallas Personal Injury Lawyer Mike Goolsby of The Goolsby Law Firm for a free and confidential consultation. Call (972) 492-8758.