A Trinity Railway Express (TRE) train struck and killed a female pedestrian in Hurst on Tuesday, according to Fox 4. A spokeswoman for the Dallas Area Rapid Transit says the accident happened near 100 block of Precinct Line Road at roughly 4:45 p.m. Authorities have not identified the victim yet. No passengers aboard the train were injured.
Our Dallas personal injury lawyers urge you be cautious around these dangerous intersections. This is the second fatality involving the TRE in the last month, according to Star-Telegram.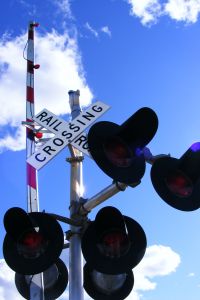 The Federal Railroad Administration issued a Final Rule on the Use of Locomotive Horns at Highway-Rail Grade Crossings in response to a legislative mandate. The rule requires trains sound their horns as a warning to highway users at all public crossings in attempt to reduce the risk of pedestrian accidents in Dallas and elsewhere in the United States.
More than 13,000 railroad-related accidents occurred in a one-year period studied by the Federal Railroad Administration's Office of Safety Analysis. Of these accidents, more than 850 fatal accidents resulted. Of those, more than 1,000 occurred at highway railroad crossings and nearly 400 were a result of pedestrians trespassing on railroad property. According to the Federal Railroad Administration Office of Safety Analysis, Texas experienced more than 100 railroad fatalities in the last two years.
The main causes of railroad fatalities:
-More than 38 percent are caused by human factors.
-Equipment defects cause more than 12 percent of accidents.
-Nearly 35 percent of accidents are caused by track defects.
-Almost 2 percent are caused be defects in the signaling.
-The remaining 12 percent result from miscellaneous causes.

Please follow these safety tips near railroads:
-Always expect the worst. Figure a train is on the track at all times as most trains don't travel on a regular schedule.
-As a pedestrian, always cross the railroad tracks at the highway-rail grade crossing and be sure to obey all signals and signs. Stay away from railroad bridges and trestles, and stay out of tunnels. These areas aren't wide enough for both you and the train.
-Don't walk or drive your vehicle on or near rails. Don't climb on railroad cars.
-Never drive on a railroad track until you're positive the tracks are clear. Once you've started your way across the tracks, keep going.
-If your vehicle happens to stall on the tracks, get everyone out and off the tracks immediately. You are urged to move away from the tracks but move in the direction from which the train is approaching.
If you or a family member is hurt in a Dallas pedestrian accident, contact Dallas Injury Attorney Mike Goolsby for a free consultation to discuss your rights. Call (972) 394-2141. Serving Dallas, Carrollton and the surrounding areas.