The Dallas Police Department will be out in full force enforcing a zero-tolerance DWI patrol starting Friday, March 11th in effort to reduce drunk driving related Dallas car accidents through the St. Patrick's Day weekend.
Dallas personal injury lawyers recognize the increased number of drunk driver on the roads during the St. Patrick's Day extended weekend poses a threat to all motorists on the road.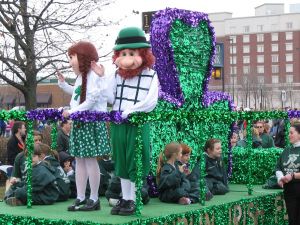 Police officers will be securing a search warrant for blood samples from all persons in violation who refuse to give a voluntary breath/blood sample. Police would also like to remind you of other ordinances.
"The Dallas Police Department will have an increased presence and will be enforcing city ordinance 6-6.0, which outlaws Open Container and Public Consumption of Alcohol outside the designated areas for this event," according to the Dallas Observer.
The Observer also offers a copy of the Dallas Police Department's memorandum regarding St. Paddy's Day celebrations.
NBC-5 offers Dallas citizens and visitors a how-to list for a safe and fun St. Patrick's Day:
-Re-route your trip. Know which roads are closed for parades and when they reopen.
-Forget the car. If you live near the area, try using the DART system. This will eliminate parking problems and drunk driving accidents.
-Plan you parking. Try carpooling. Pay attention to posted signs indicating where you can and cannot park to avoid a costly mishap.
-Watch your drinks. Cops can now charge up to $250 for not having a top on your adult beverage. Beware of all open-container ordinances.
-Stay hydrated. And no, not necessarily with green beer. Authorities would like to remind you that you don't need heat to be dehydrated. Remember to drink plenty of water.
The NHTSA offers everyone a Impaired Driving Toolkit on their website to help reduce the risk of serious and fatal car accidents caused by drunk drivers.
If you or a loved one has been injury by a drunk driver, contact Dallas Personal Injury Lawyer Mike Goolsby at The Goolsby Law Firm to set up a free confidential consultation to discuss your rights. Call (972) 492-8758.