Intersections are frequently a deadly site for Carrollton car accidents and traffic crashes elsewhere in the Dallas area.
The U.S. Department of Transportation Federal Highway Administration considers intersections one of the most complex traffic situations a driver can face. In 2009, over 7,000 traffic fatalities occurred at intersections or intersection related incidents in this country. Over the last 25 years, fatalities from intersection crashes have not substantially decreased despite improved designs.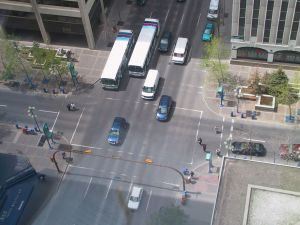 Our Dallas personal injury attorneys agree that it's a growing concern and organizations should pool money devoted to resources to reduce the risk of intersection deaths in the country.
Organizations like FHWA, National Highway Traffic Safety Administration (NHTSA), AAA, Institute of Transportation Engineers (ITE), and American Association of State Highway and Transportation Engineers (ITE) are doing just that.
In 2009, the Fatality Analysis Reporting System used by NHTSA reported over 4,500 fatal crashes at intersections with traffic control devices such as traffic signals or stop signs. Texas reported over 300 fatal crashes in intersections with a traffic control device.
From 2005-2009, Texas reported a minimum of 574 fatalities each year involving an intersection or intersection related crash, according to the NHTSA.
Dallas County averaged a little over 47 fatalities in intersections during this same time period. A record-high 57 people lost their lives in such accidents in 2007.

Motorists are reminded of the following safety tips when approaching or sitting at an intersection:
-Always yield to oncoming traffic when making a left turn. They have the right of way.
-Contrary to popular belief, yellow lights mean slow down or stop as opposed to speed up and go through. Only proceed through yellow lights if it is unsafe to stop.
-Triple check for pedestrians, bicyclists, and motorcycles before going through an intersection.
-Allow plenty of space between you and the car in front of you in case you need to stop quickly to avoid an accident.
-Never assume what the driver in front of you will do – prepare to stop no matter what.
Many cities are implementing the use of red-light cameras at intersections to help nab violators of the traffic signal. For detailed information about the red light camera safety program in Dallas visitDallas City Hall.
Motorists are reminded to drive with caution through intersections in order to avoid a serious or fatal Dallas car accident.
The Goolsby Law Firm understands that car accidents can be distressing to victims both physically and financially. If you or a loved one has been injured in a Dallas or Carrollton car accident, call 1-972-394-2141 to make an appointment for a free consultation to discuss your rights.