First and foremost, our Dallas injury attorneys would like to wish you a safe and exciting Fourth of July holiday weekend. We understand this time of the years provides the perfect conditions for pool side barbecues and fireworks to celebrate Independence Day. We also understand that your risks of injury during this time increases tremendously.
As everyone is expected to enjoy fireworks this upcoming weekend, many will be putting on their own fireworks show. Residents are urged to be extra careful this weekend to avoid firework-related injuries in Dallas.
 According to the Centers for Disease Control and Prevention, roughly 7,000 people were treated in emergency rooms because of injuries caused by fireworks in a single year. This averages out to approximately 19 injuries a day. Texas, unfortunately saw a significant number of these injuries because we are one of the states that allow the use of consumer fireworks.
You are most likely to be injured by a firework between June 20th and July 20th. During this time in 2008, there were more than 900 injuries resulting from firecracker use, 800 associated with sparklers and approximately 300 because of rockets.
Between the years of 2000 and 2005, it is estimated that more than one-third of fire-work related deaths involved the use of professional devices that were sold illegally to consumers.
Fireworks caused an estimated 22,500 reported fires in 2008. These fires resulted in approximately $42 million in direct property damage.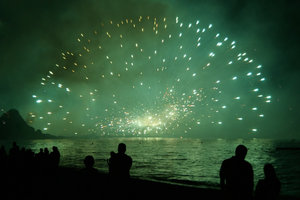 U.S. Consumer Product Safety Commissionoffers you these tips to stay safe during your at-home fireworks display:
-Don't allow children to play with fireworks under any circumstances. No child under the age of 12 should play with sparklers.
-Older children should be permitted to use fireworks, but only under close adult supervision.
-Only set off fireworks outdoors. Make sure to light them off away from houses, grass, dry leaves or any other flammable materials.
-Keep water nearby. Use either a bucket of a hose.
-Don't try to relight malfunctioning fireworks. Soak them with water and throw them away.
-Never light fireworks in a container, especially a glass or metal container.
-Store fireworks in a cool, dry place.
-Only light fireworks as the instructions describe. Do not alter or combine any fireworks.
-Don't experiment with homemade fireworks.
Residents are also likely to jump into the pool over the long weekend, either to escape the heat from the sun or to enjoy a poolside barbecue. The pool can present a number of dangers to swimmers. According to the Centers for Disease Control and Prevention, there were nearly 3,500 fatal unintentional drownings in the United States in 2007. This averages out to approximately ten deaths a day. Children are the most at risk for a drowning accident. It is estimated that more than one in five people who died from drowning were children 14-years-old and younger. For every child that dies in a pool, another four are rushed to the emergency room for nonfatal submersion injuries. Nonfatal drownings can cause brain damage that may result in a number of serious and permanent conditions, including memory problems, learning disabilities, and permanent loss of basic functioning.
Approximately 80 percent of the people who have died from drowning have been male. Children between the ages of 1 and 4 have the highest drowning rate. In this age group, almost 30 percent of those who died from an unintentional injury died from drowning. Fatal drowning continues to be the second-leading cause of unintentional injury-related death for children under the age of 15.
Make sure that, if you are celebrating this holiday weekend at the pool, that all children are supervised at all times. Make sure that someone knows cardiopulmonary resuscitation (CPR). Knowing and correctly performing CPR can help to save a victim's life in the event of an accident. It is encouraged that your enroll you child into a swimming class to better ensure their safety near water.
The Goolsby Law Firm represents personal injury victims and their families in Carrollton, Dallas or the surrounding areas. If you or a loved one has been injured, call 1-972-394-2141 for a free and confidential appointment.