Installing electronic on-board recorders in large trucks could help reduce Dallas trucking accidents.
The U.S. Department of Transportation's Federal Motor Carrier Safety Administration (FMCSA)announced a proposal to require installation of electronic on-board recorders (EOBRs). The proposal will require installation of EOBRs for interstate commercial bus and truck companies, to monitor the hours-of-service (HOS) rule compliance by their driver's.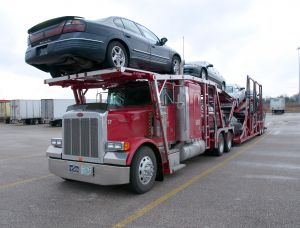 Our Dallas personal injury lawyers know the tragic results of a tired trucker on the roadways. Too often it is an innocent motorist or an entire family that pays the price.
In 2008, the National Highway Traffic Safety Administration reported 380,000 large truck crashes; 4,066 were fatal crashes. In those crashes 90,000 people were injured and 4,229 were killed (which was 11% of all traffic fatalities). Of truckers involved in fatal crashes, 24% had been convicted of a prior speeding ticket.
In Texas there were 4,619 fatal motor vehicle crashes, 421 involved a large truck. Texas lead the nation with the most fatal truck crashes. California finished a distant second with 304.
The EOBRs will replace the system commercial vehicle drivers currently use, pen and paper, to keep track of their hours. Documenting their own hours is often inaccurate and drivers have been caught keeping multiple log books. The tamper proof electronic on-board recorders will keep all drivers honest regarding their hours-of-service.
"We cannot protect our roadways when commercial truck and bus companies exceed hours-of-service rules," said Transportation Secretary Ray LaHood. "This proposal would make our roads safer by ensuring that carriers traveling across state lines are using EOBRs to track the hours their drivers spend behind the wheel."
The proposed rule will affect about 500,000 carriers, though several carriers have already welcomed this new technology. Truckers that track their time with a timecard won't be affected by the proposal. Carriers violating the EOBR requirement could face stiff fines.
"This proposal is an important step in our efforts to raise the safety bar for commercial carriers and drivers," said FMCSA Administrator Anne S. Ferro. "We believe broader use of EOBRs would give carriers and drivers an effective tool to strengthen their HOS compliance."
This is a step in the right direction to increase large truck safety. Commercial trucks fatally crashing into passenger vehicles is happening at a rate equivalent to a monthly crash of two commercial airliners, with no survivors.
If you or someone you know has been injured in a Dallas car or trucking accident contact Dallas Injury Attorney Mike Goolsby for a free consultation to discuss your rights. Call (972) 394-2141.